Autel Announces Summer Sales Price Reductions
Company News
2022-08-16

News Highlights
Drone bundle prices reduced by up to 20%

Autel EVO Nano+ package available from $809

Autel EVO Lite+ package reduced to as little as $1,319

Offer available from August 19 to September 5, 2022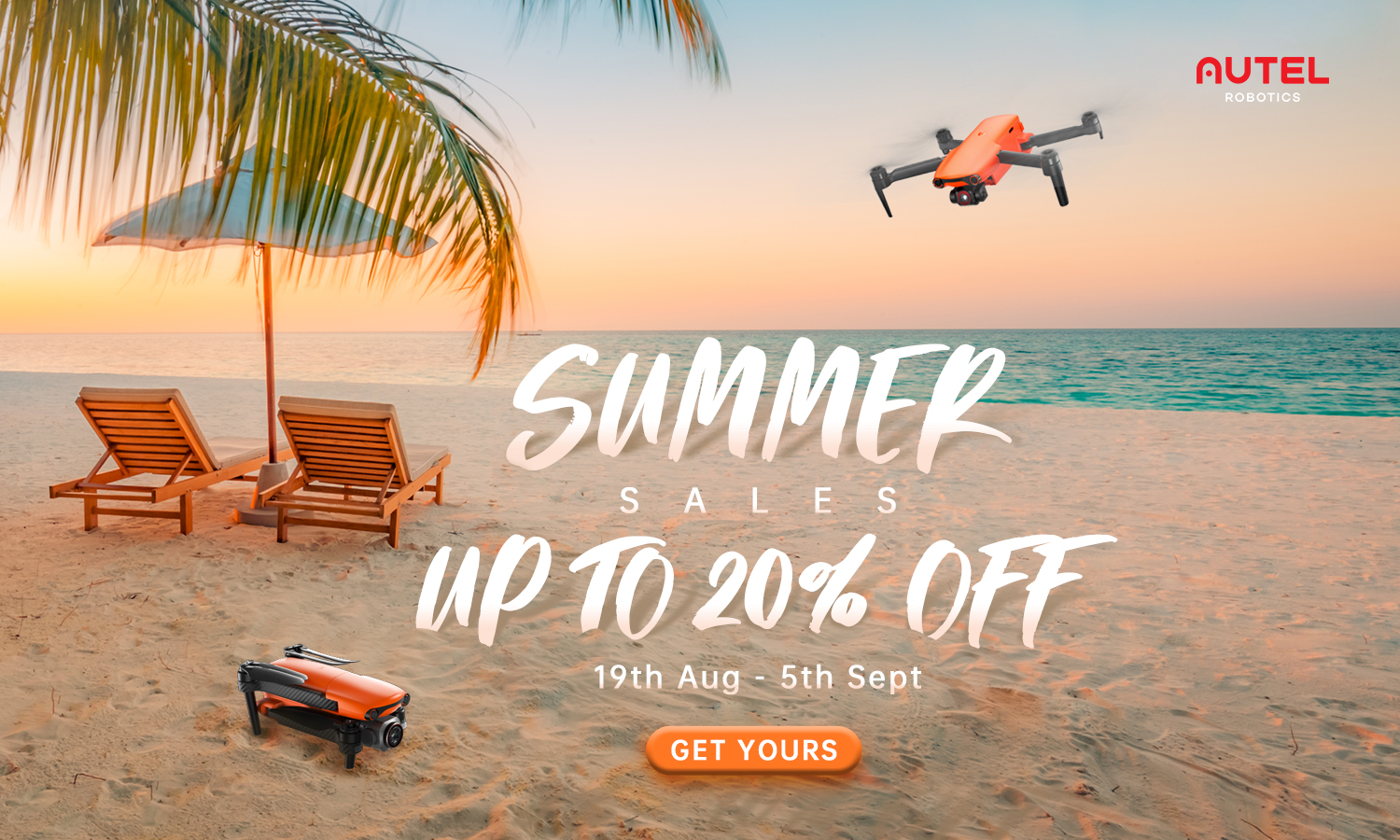 Autel Announces Summer Sales Price Reductions
Price cuts of up to 20% available on EVO Nano+ and EVO Lite+ drones
Washington, United States, August 16, 2022 – Autel Robotics has announced a summer sale, offering up to 20 percent off, that will run from August 19 to September 5. These offers apply to Autel's popular EVO Nano+ and EVO Lite+ packages and bundles, and are available via Autel Robotics Amazon store or via the Autel Robotics official store online.
EVO Nano+ Deals
The EVO Nano+ Standard Package is reduced 15 percent to $809, and the price of the EVO Nano+ Premium Bundle will be cut by 20 percent to $879.
At only 249 grams, the EVO Nano+ weighs about the same as a smartphone and can be easily carried almost anywhere, from the side pocket of your hiking pack, to the palm of your hand. This drone has a 3-axis gimbal, and a 1/1.28-inch (0.8-inch) CMOS sensor that takes 4K, 50MP photos. The RYYB color filter array design with a big f/1.9 aperture offers superior noise reduction and creates excellent pictures in low light conditions.
EVO Lite+ Special Offer
The EVO Lite+ Standard Package price will be cut by 15 percent to $1,319, and the price of the EVO Lite+ Premium Bundle will be reduced by 20 percent to $1,479.
The EVO Lite+ offers HDR camera modes, more flight and battery range, less interference, and Ultra Wide Angle Obstacle Avoidance. Flex your creativity with the adjustable aperture, from f/2.8 to f/11, helping you adjust exposure and depth of field to show off your own artistic style. Discover the world by moonlight, with the 1-inch CMOS image sensor and intelligent moonlight algorithm that let the EVO Lite+ capture crisp, vibrant details at night.
How to take advantage of these offers
Availability from August 19, 2022 to September 5, 2022
Autel Robotics Amazon store
Autel Robotics official store
EVO Nano+ standard and premium packages
EVO Lite+ standard and premium packages
About Autel Robotics
Autel Robotics is a team of industry professionals with a genuine passion for technology and years of engineering experience. Since its founding in 2014, Autel has always striven for customer-driven innovation and is continually working to raise the industry standard for drones. The company's headquarters is in Shenzhen, the heart of China's tech industry; it also has R&D bases around the world including Seattle, Munich, and Silicon Valley. For more information, visit www.autelrobotics.com, or follow Autel Robotics on Facebook @autelrobotics, and Instagram @autelrobotics, or subscribe to the Autel Robotics YouTube Channel.
Article by Autel Robotics all rights reserved.
< Return