Autel Robotics First Global Partner Summit Gets off to a Flying Start
Company News
2023-05-04

News Highlights
Autel Robotics holds first Global Partner Summit

Groundbreaking new e-VTOL UAV

New EVO Max 4N and ecosystem products

Obstacle avoidance demonstration

Airborne ISR Solution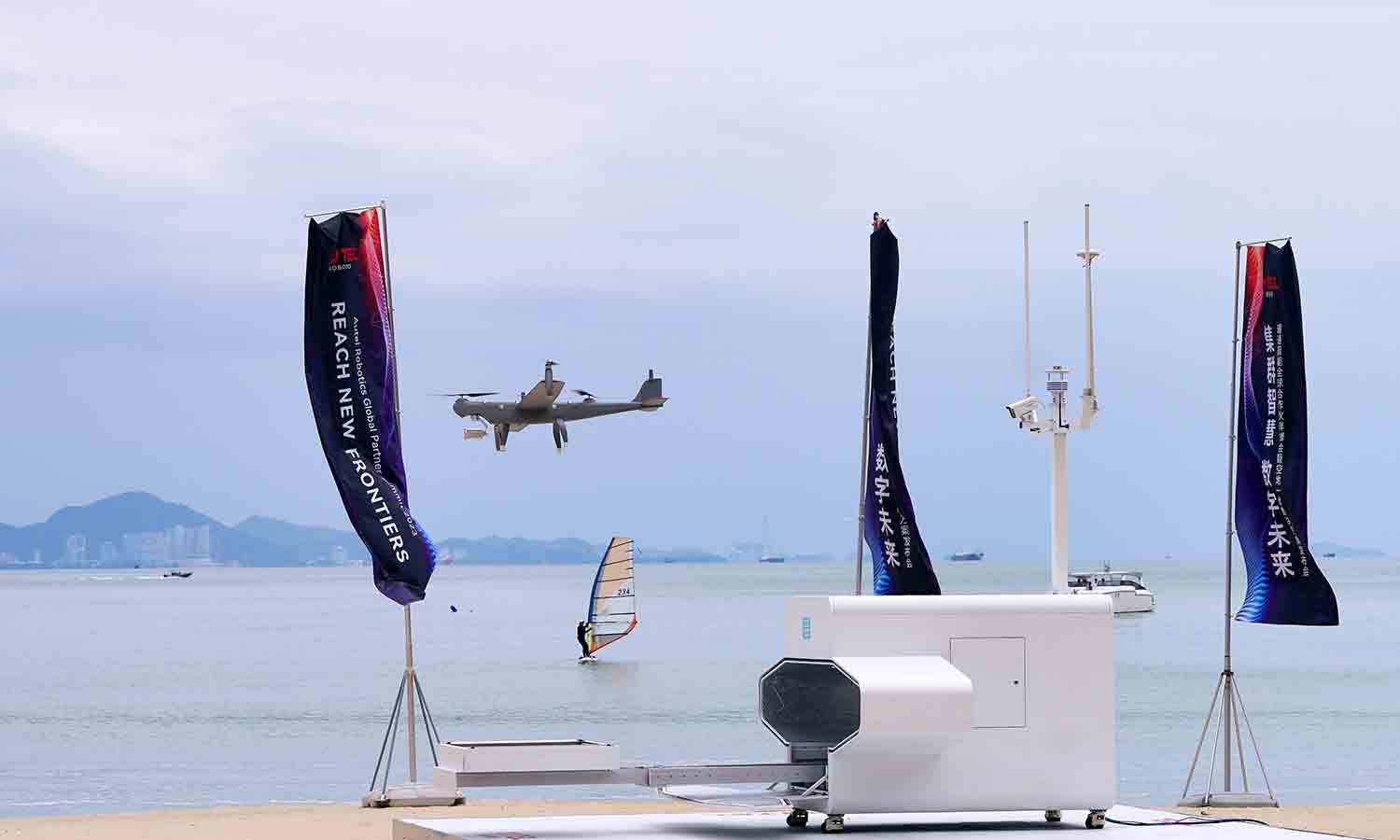 Autel Robotics First Global Partner Summit Gets off to a Flying Start
Revolutionary New Drone and UAV Products Unveiled and Demonstrated
Washington, United States,May 03, 2023 – Autel Robotics opened the inaugural Autel Robotics' Global Partner Summit at Le Meridien Xiaojing Bay in Huizhou, Guangdong, China on April 26th, 2023. Groundbreaking new products were demonstrated to global partners from all around the world, in a spectacular event headed by Autel Robotics Chairman, Frank Lee.
The conference featured the launch and first public viewing of new EVO Max Series and Ecosystem products. This included the EVO Max 4T with Zoom Camera, Wide Camera, Thermal Camera and Laser Rangefinder; and the EVO Max 4N, equipped with a new Night Vision Zoom Camera alongside the features of the EVO Max 4T. Also on show was Autel Mapper, Autel's newly updated software designed as a one-stop solution for 2D and 3D mapping.
Airborne ISR and New e-VTOL UAV
Autel used the summit as an opportunity to demonstrate its latest developments and new products, one of these being its new, complete Airborne ISR Solution, designed to empower industries with innovative capabilities like drone-to-drone collaboration. Applications include energy and electricity distribution networks, gas and oil, public safety, traffic, emergency rescue, mapping, agriculture, aerial photography and education.
A groundbreaking new e-VTOL UAV was on display in the exhibition area. This vertical take-off and landing fixed-wing UAV aircraft features a unique upper monoplane, V-shaped tail layout, and retractable three-point front landing gear. The e-VTOL UAV serves as a sign of Autel's renewed focus on innovative UAV and drone solutions.
Outdoor Demo of Radical New Products
Immediately following the conference, Autel gave an outdoor demonstration of several recently-introduced products and systems. One of the highlights of the outdoor event was a demonstration of the EVO Max 4T flying in Mesh configuration.
Among the other products and systems demonstrated outdoors were the Dragonfish Nest and EVO Nest; The Dragonfish-supported and EVO-designed mobile take-off and landing stations. Nest self-charging was demonstrated, as well as active obstacle avoidance across the drones. The event concluded with a banquet, live show and prize giving.
Autel's First Global Partner Summit a Major Success
Autel Chairman, Frank Lee shared his thoughts on the summit, "For almost a decade we have helped customers solve problems and improve efficiency in more and more scenarios, based on unique patented technologies, and exploring force multiplying concepts like increased drone intelligence, clustering, and mesh operations that allow drones to work together, even without ground communication system support."
Autel staff were thrilled to meet friends and partners from around the world in Guangdong.
About Autel Robotics
Since 2014, Autel Robotics has aspired to accelerate the adoption of drone technology as the world's highest regarded manufacturer and solution provider. The company's headquarters is in Shenzhen, the heart of China's tech industry; it also has R&D bases around the world including Seattle, Munich, and Silicon Valley. For more information, visit www.autelrobotics.com, or follow Autel Robotics on Facebook @autelrobotics, and Instagram @autelrobotics, or subscribe to the Autel Robotics YouTube Channel.
Article by Autel Robotics all rights reserved.
< Return