Autel Robotics Tilt-rotor Dragonfish Lite and Pro UAVs Now Available in US
Company News
2022-03-29

Product Highlights
Professional-level UAVs

Tilt-rotor design for VTOL and winged flight

Flight time up to 158 minutes

Payloads up to 2.5kg

Smart, autonomous, easy-to-use

Redundant design for safety, dual batteries

Flight ceiling up to 6000m

Choice of three models

Multiple payloads available
Autel Robotics Tilt-rotor Dragonfish Lite and Pro UAVs Now Available in US
Dragonfish Pro extends continuous flight time to three hours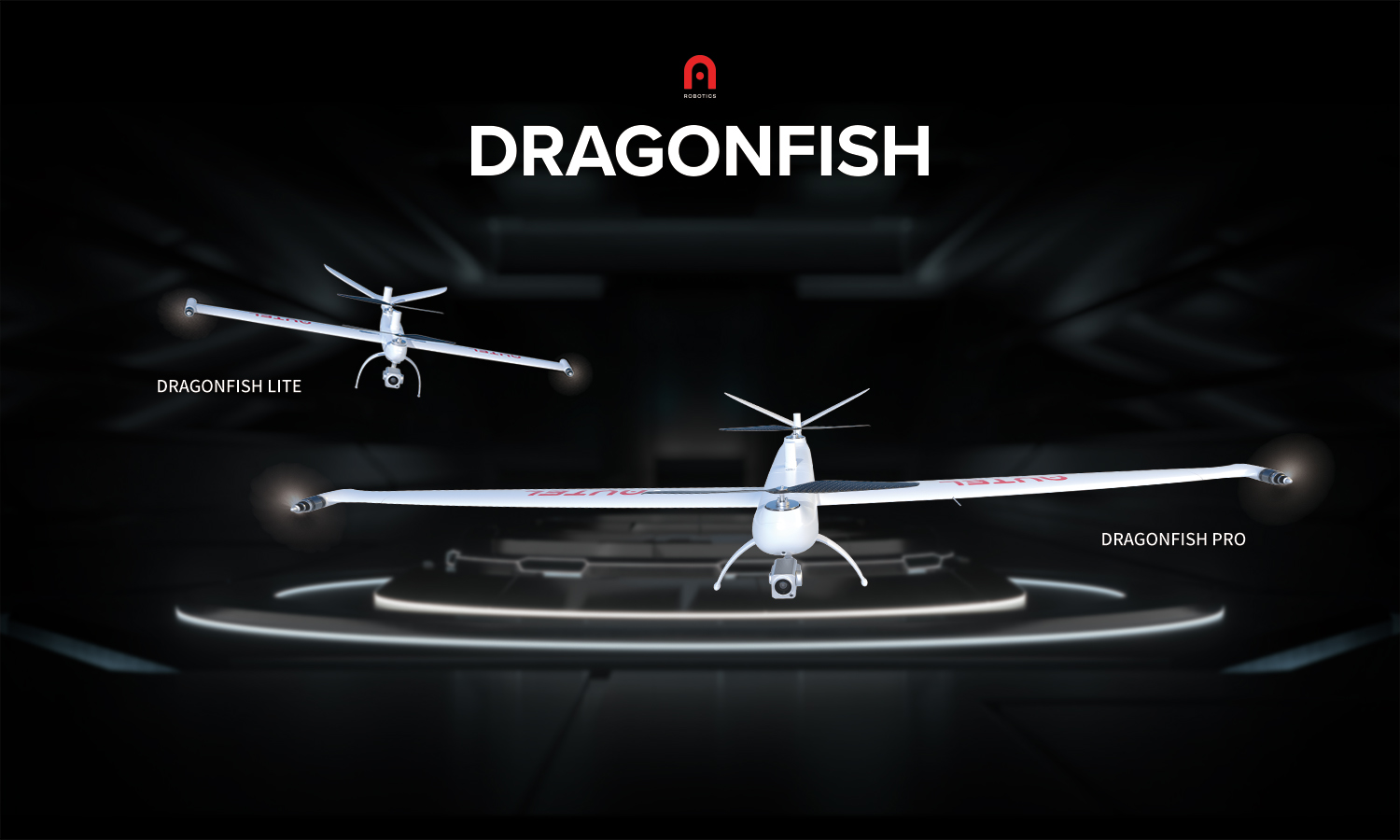 Washington, United States, March 29, 2022 – The Autel Robotics Dragonfish Lite and Pro UAVs are now available in the US, joining the standard Autel Dragonfish and providing more price options and mission choices for UAV pilots. The Dragonfish series are tough aircraft, capable of both VTOL multi-rotor and fast winged flight with an endurance of up to 158 minutes, making them ideal for professional applications in fields such as energy, mining, defense, and surveillance. Maximum winged flight speed is 30m/s (108km/h, 67mph), and maximum video transmission range is 30km (18.6 miles) with a base station.
The Dragonfish series
The Dragonfish series is built with safety and ease of use in mind. The 1-tap take-off and landing capability, easy point-and-click user interface, and other smart autonomous features make them simple for anyone to operate. The aircraft can make a smart decision to either land or return to base in case of issues such as loss of GPS signal, loss of operator communications, or low battery power. The Dragonfish tilt-rotor system will automatically transition to multi-rotor mode if adverse conditions cause fixed winged flight to stall or become unsustainable. The Dragonfish battery, barometer, positioning system, compass, and IMU all have backup modules to ensure flight safety.
Dragonfish UAVs can carry a variety of payloads – including standard high-resolution cameras, 50x optical zoom cameras, 12 megapixel wide-angle cameras, 1280x1024 high-resolution infra-red cameras, and laser rangefinders – for various imaging, surveillance and mapping tasks.
All Dragonfish UAVs are built from tough carbon-fiber and fiber-glass composite, providing excellent IP43 wind and weather resistance. Despite the strong construction, these aircraft are designed to be easily disassembled for space-saving transport, but only take three minutes to assemble for work – no tools required. Disassembled, Dragonfish fits in the back of any car or SUV.
Dragonfish Pro for long-endurance heavy-duty jobs
The larger Dragonfish Pro provides the longest flight time of the series, 158 minutes with payload, and has a 6000m (19,685 ft) flight ceiling, making it perfect for applications like discreet long-endurance surveillance and wide-area mapping. The maximum payload capacity is 2.5kg.
Dragonfish Lite: The compact, lightweight choice
Compact and lightweight at only 4.5kg (including two batteries) with a 1600mm wingspan, the Dragonfish Lite can carry a 1kg payload up to its service ceiling of 4000m, and has 81 minutes' flight endurance.
Dragonfish UAV availability
Dragonfish Standard is already available. Dragonfish and Lite and Dragonfish Pro will be available in the US from early April 2022. These and other Autel Robotics products, including compatible camera payloads, can be sourced from local authorized dealers: https://auteldrones.com/pages/dragonfish-authorized-dealers


Autel will be unveiling the full Dragonfish line up at the Texas Public Safety Summit in Burnett, Texas from March 28th to 30th. Tickets can be purchased at the summit's website for a chance to see exclusive live flight demonstrations of the Dragonfish Lite and Pro.
For more details on the Dragonfish series, please visit: https://www.autelrobotics.com/productdetail/3.html
About Autel Robotics
Autel Robotics is a team of industry professionals with a genuine passion for technology and years of engineering experience. Since its founding in 2014, Autel has always striven for customer-driven innovation and is continually working to raise the industry standard for drones. The company's headquarters is in Shenzhen, the heart of China's tech industry; it also has R&D bases around the world including Seattle, Munich, and Silicon Valley. For more information, visit www.autelrobotics.com, or follow Autel Robotics on Facebook @autelrobotics, and Instagram @autelbotocis, or subscribe to the Autel Robotics YouTube Channel.
Article by Autel Robotics all rights reserved.
< Return