Autel Robotics a Winner at iF Design Award 2022 in Berlin
Company News
2022-04-20

News Highlights
● Autel Robotics wins iF Design Award 2022
● EVO Lite and EVO Nano+ drones both win honors
● Jury of 75 leading international experts chooses award winners
● International award highlights outstanding products
● Almost 11,000 entrants, but few winners
Autel Robotics a Winner at iF Design Award 2022 in Berlin
Two Autel drones: EVO Lite and EVO Nano+ honored by jurors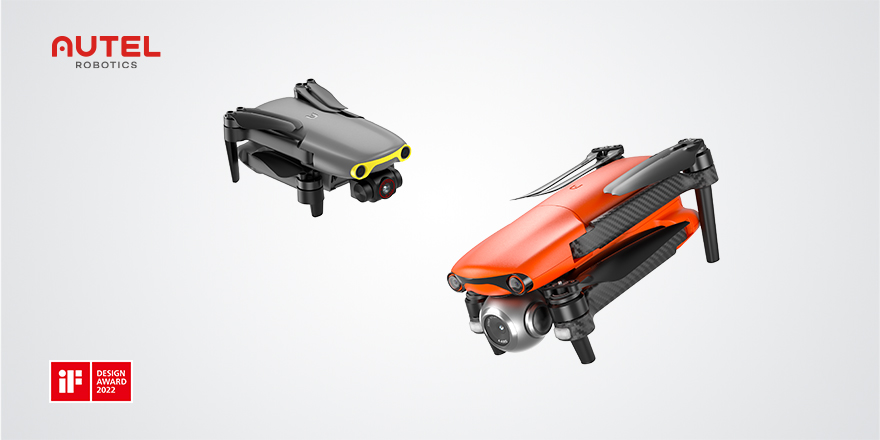 Washington, United States, April 20, 2022 – UAV maker Autel Robotics has been named a double winner of the iF Design Award 2022. The iF Design Award is only given to exceptional products after assessment by expert jurors for qualities including function, impact, form and idea. Autel's EVO Lite and EVO Nano+ drones were both selected as winners from a record field of 10,776 products and projects by international design experts, and both scored highly in all categories.
Award-winning design secrets: EVO Nano+
To make Autel's 249g EVO Nano+ drone as lightweight as possible, every component was carefully chosen from the very beginning of the design process. "We started from the size, structure, weight, materials and technology of the aircraft … we started from the appearance, then worked on the structural design and material molding," said EVO Nano+ co-designer Boming Lu.
The drone's ultra-thin lower shell is made of semi-solid die cast magnesium alloy, ensuring toughness, lightness, and good heat dissipation. The gimbal camera is small yet still produces stable image and video performance. As they are small and light, the Nano Series aircraft are hard to control in harsh winds, but Autel optimized algorithms to solve the internal balance challenge. The Series offers an ideal flight control experience as well as excellent hovering stability, flight performance, and wind resistance.
The features that made EVO Lite a winner
Autel's EVO Lite introduced the consumer drone market to new perspectives and new possibilities. The EVO Lite was the first drone in the world to introduce a four-axis gimbal design, enabling users to shoot vertical videos for easy editing and sharing on mobile devices.
The EVO Lite's supersensitive 50 MP camera, equipped with a 1/1.28-inch (0.8-inch) CMOS sensor, offers pilots a higher level of image quality. The camera's RYYB color filter design absorbs 40% more light than traditional RGGB arrays, allowing users to capture natural scenery in all its glory. The drone can also track fast-moving subjects with a precise autofocus that locks in within milliseconds using a phase detection autofocus and dual focus algorithm.
For more information about EVO Lite at www.autelrobotics.com/productdetail/23.html and EVO Nano+ at www.autelrobotics.com/productdetail/24.html
About Autel Robotics
Autel Robotics is a team of industry professionals with a genuine passion for technology and years of engineering experience. Since its founding in 2014, Autel has always striven for customer-driven innovation and is continually working to raise the industry standard for drones. The company's headquarters is in Shenzhen, the heart of China's tech industry; it also has R&D bases around the world including Seattle, Munich, and Silicon Valley. For more information, visit www.autelrobotics.com, or follow Autel Robotics on Facebook @autelrobotics, and Instagram @autelrobotics, or subscribe to the Autel Robotics YouTube Channel.
Article by Autel Robotics all rights reserved.
< Return